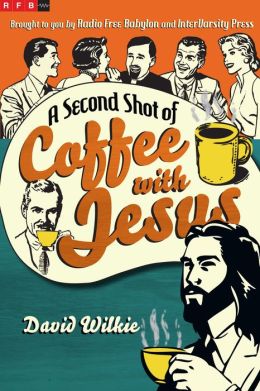 A Second Shot of Coffee with Jesus
by David Wilkie
ISBN 978-0-8308-3693-2
IVP Books
Reviewed by Clint Walker
For a few years I was a devoted follower of Coffee with Jesus on Facebook. Then, the first book came out, my friend list increased on Facebook, and I did not see much from my Radio Free Babylon feed. So, when I got
A Second Shot of Coffee with Jesus
I was excited to see what the latest Word was from the witty and somewhat offbeat comic strip.
I was pleasantly surprised that the strip maintained its high quality, and yet at the same time Coffee with Jesus seemed to grow up a little bit as well. In my opinion, the early version of the messaging of Wilkie tending to lean heavily on pointing out some of hypocrisy and ideosyncracies of the contemporary Christian church. The strip certainly continues this theme from time to time, but it has developed depth and breathe that I did not anticipate. Wilkie has continued to be humorous, but has also mixed in some general cultural criticism and some pretty thoughtful messages about God's grace and love. Also, some thought provoking insights about spiritual warfare. I have enjoyed this book thoroughly.
For those who enjoyed the first book, this "second shot" eschews thematic messaging for volume of comic strips. Some of them have appeared online, but there are others that were saved specifically for this book.
My only criticism of the book has to do more with my age. The print seems awfully small in this book (with the strips), and it takes some effort for me to read that print at times. Nevertheless, it will sit out on my desk, and eventually my coffee table, should I ever get one.