50 Days of Hope: Daily Inspiration for Your Journey through Cancer
by
Lynn Eib
ISBN 978-1-4143-6449-0
Tyndale House Publishers
Reviewed by Clint Walker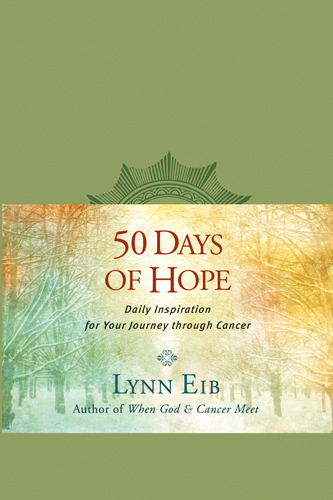 I have never had cancer. I hope that I never will. However, if I did encounter my mortality by having to battle cancer, I would want a copy of
50 Days of Hope
beside me to guide me on the journey.
Lynn Eib
is a cancer patient advocate and a cancer survivor as well. She has a deep faith that has sustained her through her battle with cancer, and she uses her experience as a patient to help her support some people who are going through the scariest and darkest moments of their lives.
Her most recent book, 50 Days of Hope, is a devotional intended to guide people as they go through cancer treatment. Many people focus simply on the physical symptoms. Eib, both through her work and through this book, want to do heart work and soul work with those who are striving to overcome a cancer diagnosis. Because she is a survivor, Eib can speak plainly to the issues people with cancer are going through without sounding arrogant or high and mighty. She knows the spiritual pitfalls that accompany you when the "c" word is attached to your name, and she knows the opportunities for deeper faith in that journey as well.
In addition to being a helpful bit of writing, something should be said about how the book is presented. It is a small book made of imitation leather. It is petite enough that it could be placed in a woman's purse, but it "neutral" enough in its presentation that it does not look like an exclusively feminine product from Tyndale.
I am going to keep this book to give away to someone when I think they might need it, and hope it is not me that might need it first.