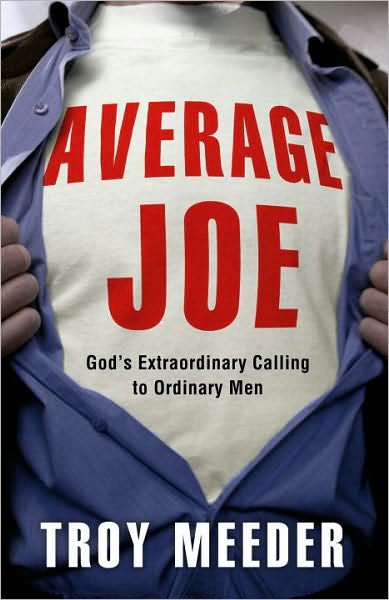 Average Joe: God's Extraordinary Calling to Ordinary Men
by Tony Meeder
ISBN 978-1601423078
Multnomah Books
Reviewed by Clint Walker
For the last several years, there have been several books geared toward identifying and speaking to a masculine, evangelical spirituality. Most prominently, John Eldridge and his book "Wild at Heart" spoke to this market, but since that book was published several others have followed suit. Average Joe is one of those books designed to minister to everyday American men who are seeking to understand their Christian faith within the context of their day to day lives.
Average Joe
speaks to men through the interests they have the roles they play in life. Within the context of those interests and roles, Meeder challenges his readers to see and respond to the presence of God as it is active in those places. He tells stories. He speaks about friendships and mentors. Meeder identifies with everyday life struggles of men without being overly psychological or dramatic. He challenges his readers to grow, and does so in a positive way. He does not beat up men for who they are, instead he challenges them to use who they are for the glory of God.
I enjoyed
Average Joe
. There were some examples in the book based on life in the Northwest. Having grown up in Oregon and Alaska, and having also lived in Montana and Colorado, I could recognize and identify with some of the things he was talking about.
This would be a great gift for a birthday or Christmas for that guy you want to encourage to grow in his faith a little bit. Pick it up, and share it with others.